Monday, March 24, 2003 5:05 PM
NASA: Columbia's Data Recorder Promising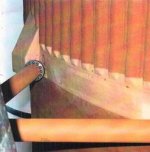 An early look at the magnetic tape from the space shuttle Columbia's salvaged data recorder offered hope that it was in good enough shape to yield some information about the doomed flight, NASA said Monday.
Discovered in east Texas on Wednesday, the recorder held 9,400 feet of tape that was stretched and broken in one spot but otherwise in good condition, said NASA spokesman James Hartsfield.
"Right now, the potential for there to be data available to us looks promising," he said.
The recorder _ potentially the most significant piece of debris found yet _ is in the laboratory of a Minnesota company that specializes in magnetic data storage, and its tape is being painstakingly cleaned.
NASA believes the tape stopped recording about the time the shuttle broke apart above Texas on Feb. 1, killing all seven astronauts. It had recorded Columbia's launch 16 days earlier and was activated again for the start of descent.
The recorder was collecting data from about 800 sensors on the fuselage, wings, tail and engines, and measuring temperature, pressure, strain, vibration, acoustics and acceleration, Hartsfield said.
The accident investigation board suspects Columbia's left wing was breached, possibly by flyaway foam insulation or other fuel-tank debris during liftoff, and that the scorching gases of atmospheric re-entry burned through wiring in the wing and penetrated the left landing gear compartment.
Late Friday night, NASA shipped the recorder to Imation Corp. in Oakdale, Minn., a leading manufacturer of data storage tape with 50 years of experience.
"The majority of tape on the take-up reel appears in very good shape," he said. "They're just starting to work with it now, but I can tell you that there's optimism from the visible appearance."
Once the tape is cleaned and stabilized by Imation, hopefully this week, it will be sent to Kennedy Space Center in Cape Canaveral, where the playback and dubbing equipment is located. The dubbed tapes subsequently will be sent to Johnson Space Center in Houston for analysis.
An Imation spokesman, Brad Allen, said the company has worked with NASA before.
So far, about 45,000 pieces of shuttle wreckage have been found and shipped to Kennedy. That represents about 54,000 pounds, or 24 percent of the weight of the descending shuttle.
The investigation board, meanwhile, will be in Cape Canaveral this week for its third round of public hearings. Kennedy officials will discuss, among other things, the collection and layout of Columbia debris at the space center.
Copyright © 2003 The Associated Press. All rights reserved. The information contained in the AP News report may not be published, broadcast, rewritten or redistributed without the prior written authority of The Associated Press.

AviationHistory.org shall not be liable for any errors or delays in the content, or for any actions taken in reliance thereon.