| | |
| --- | --- |
| With the two websites below you can search large databases of registered forces and ex-forces personnel to find your old friends, mates and pals. | |

"Lost contact? Ever wondered what your old colleagues are up to?
The safe, secure and completely free way to get back in touch"

Reunite with www.modreunited.com.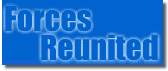 http://www.forcesreunited.org.uk will enable you to find your old forces friends from the past and arrange get together's and reunions etc. whoever you are and wherever you are in the world!
So, don't hesitate, come and take a look at http://www.forcesreunited.org.uk its Fast and it's FREE!
---

Shore Duty - A place for military families

From syndicated military/humor columnist comes a site filled with
insightful, humorous and inspiring stories about life as a Navy pilot's wife.
---
Notice - The above sites are not maintained or have their content influenced by AviationHistory.org. If the site link is unavailable e-mail us and we will find its new URL. Alternatively, if you see a site of value let us know and after review we may recommend it as well. Send information now.