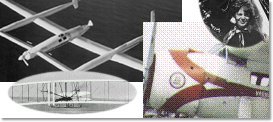 ALTERNATIVE AIRCRAFT (1979-1986)

June 12, 1979. Bryan Allen, who helped develop first successful human-powered aircraft with Paul MacCready in 1977, pedals chain-driven Gossamer Albatross across English Channel.
Aug. 7, 1980. Janice Brown pilots Paul MacCready's Gossamer Penguin, first solar-powered aircraft without battery-stored energy, in 15-minute test flight in California.
July 7, 1981. MacCready's Solar Challenger is first solar-powered aircraft to cross English Channel.
Dec. 14-23, 1986. Voyager, piloted by Dick Rutan and Jeana Yeager, is first craft to fly around the world without refueling.


(1903-1918) | (1919-1938) | (1939-1977) | (1979-1986)


Information critically reviewed by Robert van der Linden, former Assistant Curator, Department of Aeronautics, National Air and Space Museum, Smithsonian Institution.