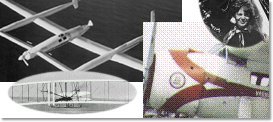 THE JET ERA BEGINS (1939-1977)

Aug. 27, 1939. Germans fly Heinkel He-178, world's first turbojet airplane, at Rostock, Germany.
Jan. 18, 1942. Last large commercial flying boat in U.S., Sikorsky VS-44A, makes its maiden flight.
Oct. 1, 1942. Robert M. Stanley flies first U.S. jet plane, Bell XP-59 Airacomet, at Muroc, Calif.
Sept. 29-Oct. 1, 1946. Comdr. Thomas D. Davis and crew of three other U.S. Navy fliers in Lockheed P2V Neptune Truculent Turtle flies nonstop from Perth, Australia, to Columbus, Ohio, 11,235.6 miles in 55 1/4 hours.
Aug. 7-10, 1947. William P. Odom in Douglas A-26 flies solo around the world, 19,645 miles, in 3 days, 1 hour, 5 minutes, 11 seconds.
Oct. 14, 1947. Maj. Charles E. Yeager of USAF flies Bell X-1, first plane to fly faster than sound.
Feb. 26-March 2, 1949. Capt. James Gallagher and crew of 13 fly USAF Boeing B-50 bomber Lucky Lady II in first nonstop around-the-world flight, 23,452 miles (four in-flight refuelings), in 3 days, 22 hours, 1 minute.
Sept. 22, 1950. Two USAF Republic F-84-Es fly first nonstop jet transatlantic flights (three in-flight refuelings).
May 2, 1952. British Overseas Airways Corporation with De Havilland Comets begins first turbojet airline service, between London and Johannesburg, South Africa.
Jan. 16-18, 1957. Three B-52 Stratofortresses make first nonstop jet around-the-world flight, 24,325 miles (three in-flight refuelings), in 45 hours, 20 minutes.
Oct. 26, 1958. Pan American World Airways begins first regular jet service between New York City and Paris, using American-built Boeing 707 jet transports.
Jan. 25, 1959. American Airlines, using Boeing 707s begins transcontinental jet service between Los Angeles and New York City; 4 hours, 3 minutes, 53.8 seconds.
July 17, 1962. North American rocket research plane X-15 penetrates outer space.
March 19-April 17, 1964. Jerrie Mock makes first around-the-world solo flight by a woman; flies a single-engine Cessna 22,858.8 miles, in 21 stops.
Sept. 1, 1974. Transatlantic speed record of 1 hour, 54 minutes, 56 seconds set by USAF Lockheed SR-71.
Jan. 21, 1976. Regular supersonic transport service begins with Concorde flights from Britain to Bahrain and from France to Brazil.
Oct. 28-30, 1977. Pan American Boeing 747 sets speed record for circling globe over both poles on
26,383-mile passenger flight from San Francisco; elapsed time, including three on-ground refuelings: 54 hours, 7 minutes, 12 seconds.


(1903-1918) | (1919-1938) | (1939-1977) | (1979-1986)


Information critically reviewed by Robert van der Linden, former Assistant Curator, Department of Aeronautics, National Air and Space Museum, Smithsonian Institution.