| | |
| --- | --- |
| Launch Pad ! | |


| | |
| --- | --- |
| Aviation History | |




| | |
| --- | --- |
| Sponsor | |



| | |
| --- | --- |
| Distributor List | |



| | |
| --- | --- |
| General Interest | |




Contact Us




The Bravest Heroes



Milesource.com




Aviation History .org - Welcome Home

Thank you for visiting the aeronautical internet
home of Aviation History .org

Winds Halt Launch of Pluto Spacecraft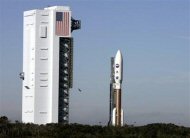 NASA - New Horizons Mission

Pluto is the brightest body in a zone of the solar system known as the Kuiper Belt, made up of thousands of icy, rocky objects, including tiny planets whose development was stunted by unknown causes.

A successful journey to Pluto would complete an exploration of the planets started by NASA in the early 1960s with unmanned missions to observe Mars, Mercury and Venus. AP - Jan 17, 2006

NASA Launch, Mission to Pluto
Tuesday, 17 January 2006.

Aviation Milestone: The First Flight of the Airbus A380 Suberjumbo

Tue Apr 26, 7:44 AM ET


In this picture released by Airbus Sunday April 17, 2005, the crew of the A380's first flight poses in front of the tail of the double-deck superjumbo airliner on April 7, 2005 in Toulouse, southwestern France. From left are: technicians Gerard Desbois, Fernando Alonso, engineers Manfred Birnfeld and Jackie Joye, and pilots Claude Lelaie and Jacques Rosay. The first flight of the A380 is planned for Wednesday April 27, 2005. (AP Photo/Airbus)

Airbus A380 Completes Historic 1st Flight
Wednesday April 27, 2005.

Airbus A380 Set for Maiden Flight Before 50,000
Tuesday April 26, 2005.

(NPR) Aviation Business: Airbus vs Beoing - Audio


The Marketplace Report: A Big Flight for Airbus
Day to Day, April 27, 2005 · Madeleine Brand talks to Tess Vigeland of Marketplace about the historic landing of the world's biggest airliner. The double-decker Airbus A-380 jet, which can carry up to 840 passengers on a single flight, touched down in France Wednesday after a four-hour maiden flight.

Aircraft Flown: The GlobalFlyer

| | |
| --- | --- |
| | "Fossett Breaks Nonstop Solo Flight Record" |
| SALINA, Kan. - First by balloon, now by plane, Steve Fossett is once again a 'round-the-world record holder. | |

Airbus Gears Up to Unveil New Flagship


Airbus - Superjumbo A380

PARIS - Airbus unveils its flagship A380 on Tuesday, the plane on which the company is betting its newfound status as the world's leading jet maker as well as the 10 billion euro ($13 billion) cost of developing the "superjumbo."

The largest ever passenger jet will be revealed during a lavish ceremony at Airbus' headquarters in Toulouse, southern France, attended by European leaders and almost 5,000 guests.

Airbus Gears Up to Unveil New Flagship
Monday, 17 January, 2005.

Legislation to Regulate Space Tourism


Burt Rutan - SpaceShipOne

Project designer Burt Rutan, left, and sponsor Paul Allen happily watch the approach and landing of SpaceShipOne after a trip to suborbital space at Mojave, Calif., airport in this June 21, 2004, file photo.

Legislation to regulate the infant space tourism industry, invigorated by SpaceShipOne's successful flights last month, gets a hearing in the House of Representatives in the final hours of the 108th Congress. Even if the bill does pass the House in voting expected late Friday, Nov. 19, 2004, it still must get through the Senate. (AP Photo/Reed Saxon, File) AP - Nov 19 1:47 PM

SpaceShipOne Named Time's 'Invention of the Year'
Monday, 22 November 2004.
In The News:
AP.org

• NASA's Spacecraft, New Horizons Pluto Mission : January, 17 2006

• Fossett Breaks Nonstop Solo Flight Record : Thursday, 03 March 2005

• NASA's 5,000-MPH Jet Makes First Flight: March 28, 09:26 AM EST

• Maryland Man Begins Pole-To-Pole Flight: Mon Dec 29, 2:03 PM ET

• Re-Enactment of Wright Bros. Flight Fails: Mon Dec 17, 12:45 PM ET

• Aviators Honor Powered Flight Centennial: Tue Dec 16, 8:25 PM ET

• Wrights Saw Plane As Instrument of Peace: Mon Dec 15, 3:26 PM ET

• Pearl Harbor Survivors Mark Anniversary: Sun Dec 07, 11:30 PM ET

• DNA Proves Lindbergh's Paternity: Nov 28 10:46 AM ET

• President Bush Aboard S-3B Viking Navy One: May 1, 2:43 PM ET




Space Shuttle Columbia: AP.org

• Pause to Remember Columbia: February 1, 2004

• Space Station Crew Welcomes Newcomers: Apr 28, 3:53 PM ET

• New Clues In Columbia Probe: March 26, 2003 3:50 PM

• NASA: Columbia's Data Recorder Promising: March 24, 2003 5:05 PM

• NASA Debated Shuttle Risks for Five Days: March 2, 9:52 PM

• Video Shows Astronauts' Final Minutes: March 1, 3:33 PM

• Columbia struck by three chunks of foam: February 22, 2003

• Columbia Probe Examines Foam Insulation: February 21, 12:31 AM

• Bush says, "space program will go on.": Feb. 8, 2003, 10:19AM



Here at Aviation History you can become part of the many feats taken on by man to discover the uncharted realms of flight as they have unfolded. You can become one with their flights of mystery and discovery by expanding on what you already know with knowledge to dream a new!
© Copyright 98 - 2006 AviationHistory.org

A Brief Look At The Blue Yonder.

Amelia Earhart.
Her story.



Aircraft Photo Galleries
Check out our awesome Aircraft Photo Gallery! The two currently available are preliminary examples of the many galleries to come. More info...

Fun Facts: Historical Quiz let
Fun Facts is exactly what it sound like. Its a bunch of some of the most major relevant tidbits of historical data ever compiled in one Web Site. Find out more...

Aviation Book Descriptions
The many aviation book titles to choose from will help you home in on the exact text you want. Along with book descriptions, price quotes from different venders will allow you to purchase at the best price. Pictures of each title, when available, will be provided alongside for your viewing to fulfill a greater endowment in this area of aviation. Browse Aviation Book Titles



| | |
| --- | --- |
| | "Flag of My Fathers" |
| Historian and author of the book Flags of Our Fathers, James Bradley, commemorating the 60th anniversary of the historic flag raising at Iwo Jima. Read and hear his audio transcript as prepared by the Boeing company. Click here. | |

The B-36 - Petition - An opportunity to help display the Last B-36.



B36 Forum
133 new msg
Help Save a Legend - B36 "Peacemaker" Bomber

Please click over to the Online Petition and take a moment to read it and some of the other posts that are already there. I think you will agree with keeping the restored "Peacemaker" where it belongs. Thank you,
and I appreciate your consideration. - Don Carr

To join the Aviation History mailing list click here.